General Information
Edit
Arenas refer to the different fight locations within Smash Supreme.

There are currently 2 Arenas:
In order to unlock more Arenas the player must first meet certain rank requirements!
Both Market and Hilltop can be found within certain VS modes in the Smash Supreme Campaign Mode.
All Arena changes are purely cosmetic.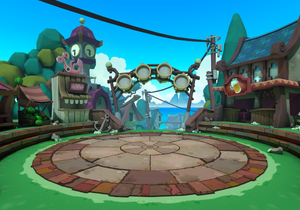 Market has no rank requirements and is instead unlocked upon tutorial completion.
Once players surpass rank 4 the Market Arena can only be seen in VS missions of the Campaign Mode.

If the player falls below the rank 4 threshold, the Market Arena will become available once again.
The Hilltop arena is unlocked to players who have achieved rank 4 or higher within PvP.

If a player falls below rank 4 the Hilltop Arena will no longer be available until the player becomes rank 4 again.